Hi everyone! :) Long time no post. Today I'd like to share my 12th finished work.
This little Fairy is by Meikyuu no Koe. Unfortunately this kit is extremely rare and I don't even know if this circle sculpts anymore (most of her kits were made 2011-2012) so my copy is a recast. However, I hope that my paintjob shows how beautiful her sculpt is – this is truly one of my favorite kits in my collection and it took me a long time to build up the courage to paint her.
When I think of fairies I usually think of pale, pastel creatures and that's how I was initially planning to paint this little gal. However, I always like to challenge myself when building kits and paint something that looks completely different from other artists' work. I decided to settle on a fairy that represents a sunset.
If you haven't done so already please take a look at my Facebook page! I update it more regularly than here, this blog has become more of a place to keep a catalog of my finished works.
Plum Workshop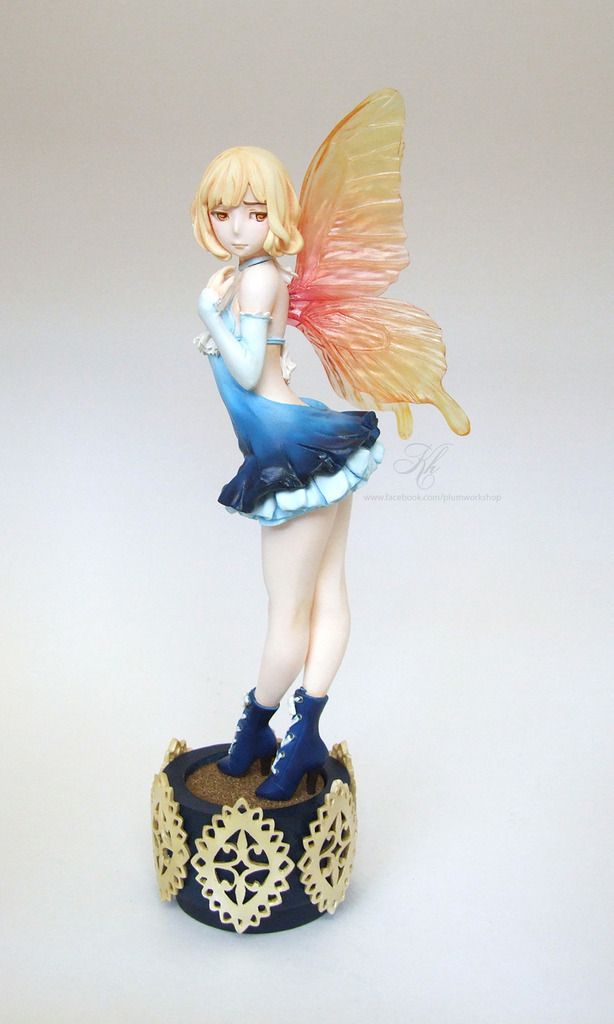 This kit was airbrushed almost entirely with Tamiya acrylic paint. I hand-brushed most of the smaller details (lace trim, face) with craft acrylics and shaded her with pastels. She is sealed with a combination of Future and Testors Dullcote.
A few new things I did this time around:
Paint Gradients

Dress: I painted a base shade of sky blue (Tamiya X-2 White, X-4 Blue) and then slowly deepened the color with Tamiya X-3 Royal Blue.
Wings: A combination of Tamiya X-24 Clear Yellow, X-27 Clear Red, and Createx Transparent Fuchsia.

Clear parts

The wings are obviously clear but this was my first time painting clear parts. The resin was soft but sadly pretty yellow even after treating it. Luckily it worked out since I was using warm colors lol.

Glitter/Gold Dust

I dusted the base with some gold/metal dust that I obtained from my workplace. I have no idea if it's real gold but it was definitely some type of metal because it got in my eyes and I had a pretty serious allergic reaction lmao. Use your safety gear people!!!
There's a few small flaws I have trouble overlooking but other than that I'm very happy with how she turned out. She doesn't photograph very well in anything other than sunlight because the warm/cool color mix tends to mess with the camera settings. I also wish that it was a little easier to see the glossy shine in her eyes and lips, it's so pretty up close.


Thanks for taking the time to read this. I'm so inspired by how well this turned out I've already moved onto my next kit (a rarity LOL) so hopefully I'll finish this one sooner :p