Happy 2017 everyone! This year my goal is to finish at least three (YES THREE!) garage kits. This figure is named Mega-chan and she as well as her friend (familiar? who knows) Tenchou are mascots from
Megatrea Shop
, a popular store in Japan with close ties to the figure company Megahouse. I bought this kit off of Mandarake years ago (maybe 2011ish?) because she was adorable but didn't have inspiration to paint her until recently.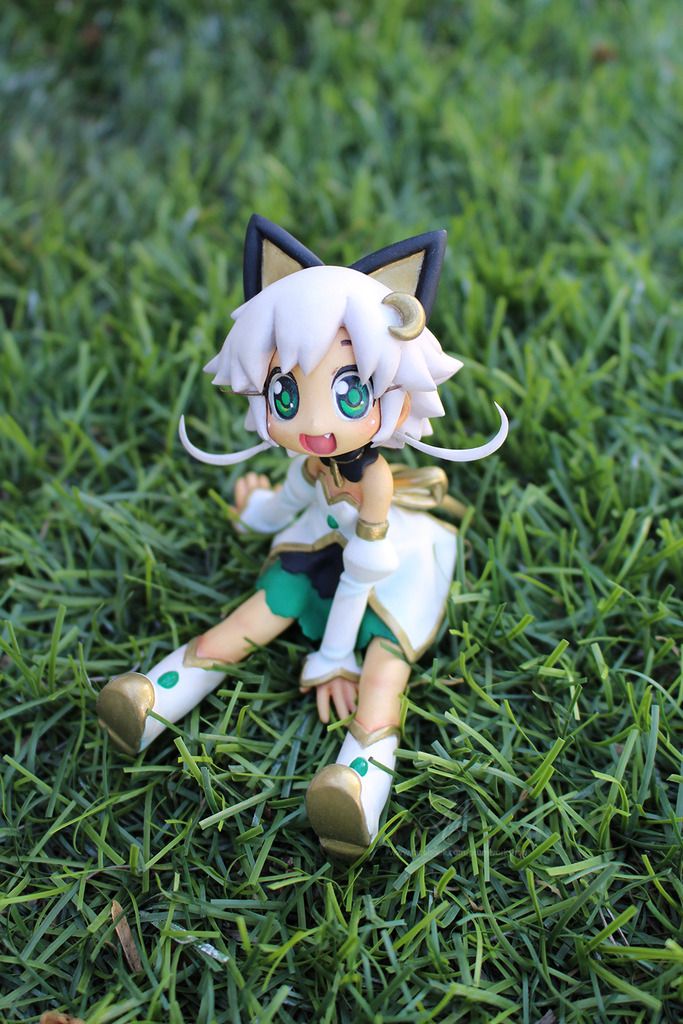 The only thing I knew I wanted to do to this kit was give her olive/tan skin since I'd like to start branching out and painting different skintones (pale/white can get so boring lol). Originally I wanted to give her a cyberpunk theme and paint her hair bright yellow with a neon pink/black outfit but after messing around in Photoshop for a few hours I decided I liked this color scheme better. I really like painting greens but was concerned this kit's color scheme would be too similar to my Asagiri Kotori one - luckily I don't feel that way now :) Since she no longer resembles Mega-chan I renamed her Zuzu and gave her a little backstory.
I painted most of the larger areas (skintone, hair, white outfit) with Tamiya acrylics and the rest was handbrushed with acrylic craft paint. Tamiya paint flows so smoothly in my AB and the colors are so easy to mix but the more I use it the more I realize how fragile it is :( There were lots of times where the paint scratched off and I had to redo the pieces. In addition, if you get alcohol or ammonia anywhere near it the paint will wipe right off. I think I'd like to experiment with lacquer paints on my next kit but I suppose that depends how ambitious I feel and if I want to spend more money on paint...
Anyway this kit also had a few extra details added to her. I added in fake eyelashes since the concept art has them but her hair hides part of her eyeball. I also added a tiny paper tooth on her upper lip to give her mouth some dimension. This is my favorite part of the kit and I feel it worked really well as opposed to just painting a flat tooth on her mouth. I also sculpted a little moon hairpin because I misplaced her original hairpin. They're all minor things but I like adding extra stuff :) I'm pretty happy with how these photos came out, I used a new borrowed camera but it makes my work really pop and actually shows the pastel shading which is awesome. I think that's all I have to report for now, please enjoy the photos! I put more on my Facebook page
here
(full lightbox set is on there) since the photo gallery on this blog has a limit of 10 photos. Thanks for looking!